This shop has been compensated by Collective Bias Inc, and its advertiser. All thoughts and opinions are mine alone. #GoldfishGameTime #CollectiveBias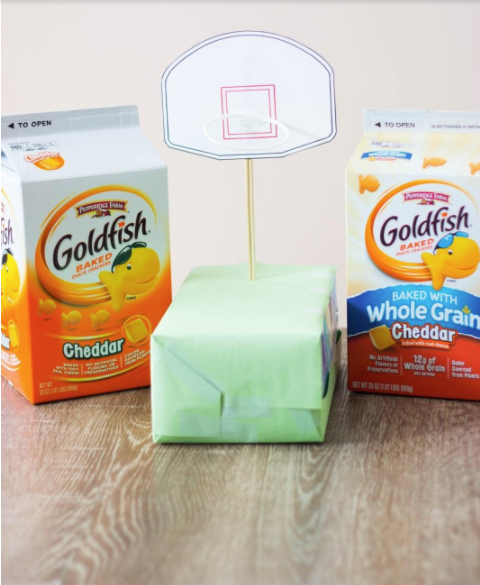 Click on this image to purchase Goldfish crackers at Walmart.
Derek and I don't really love any one major sports season, but basketball is one that we really get into. Each year since we've been together we've gone through the process of filling out a bracket, watching the games, and in more recent years, getting the kids in on the action too. Our preparations always seem to involve a trip to Walmart to stock up on
snacks like
Pepperidge Farm
®
Goldfish®
crackers
for the kids, and anything else we might need to make our viewing experience more enjoyable. The 30 oz.
Goldfish
crackers are exclusively on rollback for $6.46 at Walmart ( in store only)right now!
Sometimes watching a basketball game isn't as fun for the kids as it is for the adults, which is why I love to make sure we have snack on hand and other fun activities to make sure that they're having just as much fun as mom and dad are.
I feel like I'm much more inclined to be a fun mom for the kids if I can make a fun little game for them to play with at home, if I already have all the supplies on hand (or can easily be grabbed at Walmart). For this fun basketball game, I used some items we had around the house (cardboard box, scissors, tape, construction paper, online printable etc...) to make a mini basketball court that the kids could play with to shoot some hoops with
Goldfish
crackers.
Goldfish
crackers have been a long term parenting staple that we keep on hand at all times, and they're fun orange color makes them perfect for basketball season. You can never go wrong with
Goldfish
crackers Cheddar
but we also really love having the Whole Grain variety in the house as well!
Basketball Court Construction Instructions:
Start off by covering your small box with the construction paper. Once covered, stick the two kabob sticks down into the box, and then tape your backboard printable to the sticks. Cut off the rim of the the disposable cup, and tape onto the backboard to use as a rim, and then bust out the
Goldfish
crackers to see how many points your kids can get before halftime!
Do you love making fun projects like this with your kids? I'd love to hear your ideas in the comments below! Be sure to head on over to Walmart before game day to pick up all your basketball season needs,
and some
Goldfish
crackers
to make this fun project with your kids! Need more inspiration?
Visit this website for more games!